CL Series
VISION CL series of VRLA batteries are recognized as the most reliable and high quality battery system in the industry. VISION CL series batteries designed with advanced AGM(Absorbent Glass Mat) technology, Long service life designed with 20 years, the batteries comply to the most popular international standards, such as IEC896-2, BS6290-4, Eurobat Guide.
Product standards:
You can expect our batteries meet with the standards DIN, IEC & BS6290-4. We have obtained ISO9001 & ISO14001 certification. We have obtained UL approval (MH25860) for all types of batteries. We have obtained CE approval for all types of batteries. All these render our batteries to be compatible with requirements of world-level equipments.
Main applications:
Communication equipment, Telecommunication control equipment,Emergency lighting systems, Electric power systems,Power station, Nuclear power station, Solar powered and wind powered systems, Load leveling and storage equipment, Marine equipment, Power generation plants, Alarm systems, Uninterruptible power supplies and stand-by power for computers, Medical equipment, Fire and security systems, Control equipment, Stand-by electric power.
General features:
Stable Quality & High Reliability
Sealed Construction
Long Service Life, Float or Cyclic
Maintenance-Free Operation
Low Pressure Venting System
Heavy Duty Grids
Low Self Discharge
Construction:
Positive plates
Positive plates are made from a Lead-Calcium system.
Negative Plates
Negative plates are made from a Lead-Calcium system.
Separators
The glass fiber separators in VISION VRLA batteries have high absorbability to acid. The high porosity of the separators retains adequate electrolyte for the reaction of active materials in the plates.
Safety Vents
The venting system, which operates at 1 psi to 6 psi (0.07-0.43kg/cm2)is designed to release excess gas and keep the internal pressure within the optimum range of safety. At the same time, it protects the negative plates from contamination from oxygen in the air. Vents are 100% visually inspected during battery production.
Terminals
Depending on the battery model, the terminals may be F10......Excellent terminal sealing construction has been achieved by using long mechanical sealing paths and A selection of small shrinkage ratios for the sealing materials.
Case Materials
Standard case and cover are manufactured from ABS resin.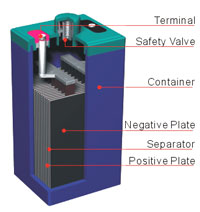 Type
Nominal Voltage(V)
Nominal Capacity
Length
Width
Height
Total Height
Weight
Terminal
Technical manual
in
mm
in
mm
in
mm
in
mm
Pounds
Kg
CL3000
2.0
3 000.0
27,95
710
13,78
350
13,58
345
15,04
382
462,97
210
F10
N/A
CL2000
2.0
2 000.0
19,29
490
13,78
350
13,58
345
15,04
382
291,01
132
F10
N/A
CL1500
2.0
1 500.0
15,75
400
13,78
350
13,58
345
15,04
382
220,46
100
F10
N/A
CL1000
2.0
1 000.0
18,7
475
6,89
175
12,99
330
14,45
367
146,61
66,5
F10
N/A
CL800
2.0
800.0
16,14
410
6,89
175
12,99
330
14,45
367
125,66
57
F10
N/A
CL600
2.0
600.0
11,89
302
6,89
175
12,99
330
14,45
367
88,18
40
F10
N/A
CL500
2.0
500.0
9,53
242
6,81
173
12,99
330
14,37
365
72,75
33
F10
N/A
CL400
2.0
400.0
8,27
210
6,93
176
12,99
330
14,45
367
61,73
28
F10
N/A
CL300
2.0
300.0
6,73
171
5,94
151
12,99
330
14,33
364
44,09
20
F10
N/A
CL200
2.0
200.0
6,81
173
4,37
111
12,99
330
14,33
364
33,07
15
F10
N/A
CL150
2.0
150.0
6,77
172
4,02
102
8,07
205
8,54
217
18,08
8,2
F10
N/A
CL100
2.0
100.0
6,73
171
2,83
72
8,11
206
8,31
211
15,87
7,2
F10
N/A