FM Series
VISION FM series are AGM Technology and are designed for general-purpose applications, such as UPS, telecom, and electrical utilities.
With 10 years design life, the batteries comply to the most popular international standards, such as IEC896-2, BS6290-4, Eurobat Guide.
The battery container and cover are available both in V0 class flame retardant ABS or HBO ABS plastics.
With more than 15 years of production experience, VISION FM series of VRLA batteries are recognized as the most reliable and high quality battery system in the industry.
Product standards:
You can expect our batteries meet with the standards JIS, DIN, IEC & BS6290-4. We have obtained ISO9001 & ISO14001 certification. We have obtained UL approval (MH25860) for all types of batteries. We have obtained CE approval for all types of batteries. All these render our batteries to be compatible with requirements of world-level equipments.
Main applications:
Engine starting, Communication equipment, Fire & security systems, Uninterruptible power supplies, Telecommunication systems, Electronic cash registers, Electronic test equipment, processor based office machines, Control equipment, Electric powered bicycle and wheelchairs, Geophysical equipment, Marine equipment, Medical equipment, Portable cine & video lights, Power tools Solar powered systems, Television& video recorders, Vending machines, Other standby or primary power supplies .
General features:
Higher Reliability and Quality
Throughout the whole manufacturing process, PPM and ISO 9001 are carried out to make sure that the product reliability and defect ratio meet with the PPM standard.
Higher Power Density
A special assembly technology is used to enhance power density to a considerable level.
Reliable Construction
The extra strong construction ABS container reduces case bulging and plate warping, ensuring long life and high performance.
Valve regulating
Perfect venting system, which operates under low pressure, is designed to release excess gas and keep the internal pressure within the optimum range of safe and efficient performance.
Excellent Recovery from Deep Discharge
Unique technical processes are used into the grid alloy and electrolyte additives, so that the battery can be recharged easily to a normal level even after being over-discharged.
Living Up to Prevailing Standards
The batteries live up to standards JIS, DIN, BS and IEC.
Construction:
These reactions can take place only by using :
Plates composed of special alloy with several components which provide the plate grids with high mechanical strength and a high level of hydrogen over voltage
An appropriate ratio between positive and negative active materials.
Fiberglass separators manufactured from borosilicate, giving them excellent resistance to high temperatures and to sulphuric acid. The high level of porosity of these separators is used to retain the quantity of electrolyte necessary for cell operation, but without any free electrolyte.
A pressure relief valve which allows gas to be released if necessary in the case of an accidental overcharge.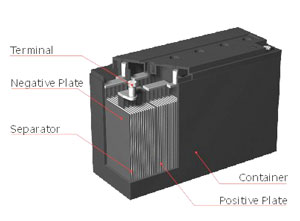 Type
Nominal Voltage(V)
Nominal Capacity
Length
Width
Height
Total Height
Weight
Terminal
Technical manual
in
mm
in
mm
in
mm
in
mm
Pounds
Kg
6FM230S-X
12.0
230.0
20,47
520
10,59
269
7,99
203
8,19
208
160,06
72,6
F12
N/A
3FM225
6.0
225.0
12,6
320
6,93
176
8,86
225
9,72
247
67,24
30,5
F16
N/A
3FM225-X
6.0
225.0
12,6
320
6,93
176
8,86
225
9,06
230
67,24
30,5
F12
N/A
6FM200S-X
12.0
200.0
20,55
522
9,37
238
8,58
218
8,78
223
143,3
65
F12
N/A
3FM200-X
6.0
200.0
9,45
240
7,28
185
10,83
275
10,83
275
71,65
32,5
SAE/F12
N/A
6FM180H-X
12.0
180.0
20,55
522
9,37
238
8,58
218
8,78
223
136,69
62
F12
N/A
6FM175
12.0
175.0
20,87
530
8,23
209
8,46
215
9,45
240
122,36
55,5
F27
N/A
6FM150-X
12.0
150.0
19,09
485
6,77
172
9,45
240
9,45
240
103,62
47
F12
N/A
6FM134-X
12.0
134.0
13,43
341
6,81
173
11,14
283
11,3
287
88,18
40
F12
N/A
6FM120-X
12.0
120.0
16,14
410
6,93
176
8,94
227
8,94
227
83,78
38
F12
N/A
6FM100-X
12.0
100.0
12,99
330
6,73
171
8,46
215
8,66
220
70,55
32
F12
N/A
3FM100-X
6.0
100.0
7,68
195
6,69
170
8,11
206
8,35
212
38,36
17,4
F12
N/A
6FM90T-X
12.0
90.0
12,05
306
6,65
169
8,27
210
8,46
215
66,14
30
F21
N/A
6FM80-X
12.0
80.0
13,78
350
6,57
167
7,05
179
7,05
179
52,91
24
F11
N/A
6FM75-X
12.0
75.0
10,16
258
6,54
166
8,11
206
8,46
215
51,81
23,5
F11
N/A
6FM75T-X
12.0
75.0
10,16
258
6,54
166
8,11
206
8,31
211
52,91
24
F21
N/A
6FM65-X
12.0
65.0
13,78
350
6,57
167
7,05
179
7,05
179
51,59
23,4
F11
N/A
6FM60-X
12.0
60.0
10,16
258
6,54
166
8,11
206
8,46
215
52,91
24
F11
N/A
6FM55-X
12.0
55.0
9,41
239
5,2
132
8,07
205
8,27
210
36,82
16,7
F11
N/A
6FM55T-X
12.0
55.0
9,02
229
5,43
138
8,19
208
8,39
213
42,99
19,5
F11
N/A
6FM45-X
12.0
45.0
7,76
197
6,5
165
6,69
170
6,69
170
30,42
13,8
F11
N/A
6FM40-X
12.0
40.0
7,76
197
6,5
165
6,69
170
6,69
170
29,76
13,5
F11
N/A
6FM33-X
12.0
33.0
7,68
195
5,12
130
6,1
155
6,61
168
24,25
11
F11
N/A
6FM29
12.0
29.0
6,54
166
4,92
125
7,36
187
7,36
187
22,27
10,1
S4F
N/A
6FM24-X
12.0
24.0
6,54
166
6,89
175
4,92
125
4,92
125
17,86
8,1
F13
N/A
6FM17-X
12.0
17.0
7,13
181
3,03
77
6,57
167
6,57
167
12,13
5,5
F13
N/A
6FM7.2
12.0
7.2
5,94
151
2,56
65
3,7
94
3,94
100
5,51
2,5
F1
N/A